Process optimization and profit growth by using Retrostop
Every time a ramp needs maintenance there are costs, for example due:
personal (material procurement + technician)
material (needed for maintenance)
ramp downtime (during maintenance)
If a defective bumper won't be replaced immediately, the risk increases that approaching trucks will damage ramp and wall thus causing additional costs for the
extraordinary maintenance of the ramp
Therefore, the diminishing of frequency and duration of ramp maintenance will automatically reduce logistic work breaks (= process optimization) and costs (= profit growth).
Furthermore, an extremely rapid and simple repair process facilitates the ordinary ramp maintenance decreasing risk of additional costs due to extraordinary maintenance.
Guernaccinis high end bumper Retrostop in fact focusses on these two aims: reduction of maintenance frequency and increase of velocity and simplicity of maintenance.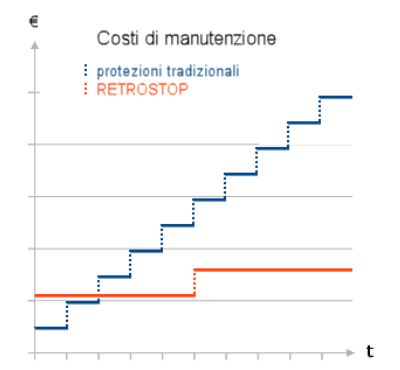 Retrostop is an extremely robust ramp protection. His rubber lifter absorbs completely the truck's impact. The lifter moves vertically with the truck during unloading and loading procedure thus minimizing abrasion damages to Retrostop and frequency of ramp maintenance.

Modular construction of Retrostop: the product is made up of an armed lifter put on a support's steel rail. The lifter is available as spare part. The maintenance of a ramp protected by Retrostop takes less than 20 seconds.
Video showing the operating mode of Retrostop: https://www.youtube.com/watch?v=D1ahiO_lUO8
Due to its advantages, a huge number of large logistics all over Europe decided to use Retrostop on their ramps, for example Ferrero, Nagel, DHL, Nothegger, BRT, Interport Rivalta Scrivia, Geis, GLS.